and please Share us with your online friends
Meth Teeth - teeth with very advanced tooth decay
Teeth with very advanced tooth decay are refferred to as meth teeth. The term meth teeth came into being, as people who were meth drug abusers literally ended up with a mouthful of badly decayed teeth.
Meth teeth are not caused by meth abuse as such, nor are they caused by impurities in the meth, it's just that meth abusers forget about oral hygiene - cleaning teeth and so on - and the meth (which is short for a long winded drug name) causes dry mouth. To ease the dry mouth, the meth user frequently reaches for a can or bottle of soft drink (contains sugar and acid), which helps the decay process speed up quite well.
The below picture / photo is of a mouthful of meth teeth - incidentally these meth teeth were not caused by meth abuse, and below these meth photos I detail the dialogue as to the cause of this advanced teeth decay, from the person suffering with these meth teeth.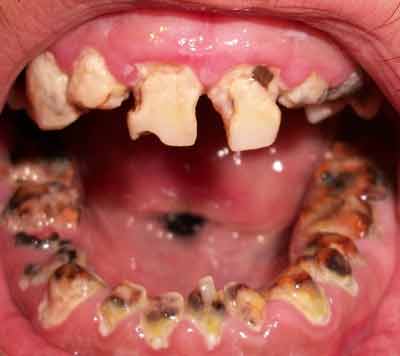 Above is the first picture, which shows the front view of his teeth.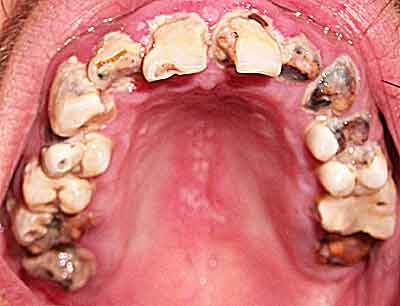 Above meth photo is of the under view of the top teeth.
While the photo picture below is a top view perspective of the bottom teeth.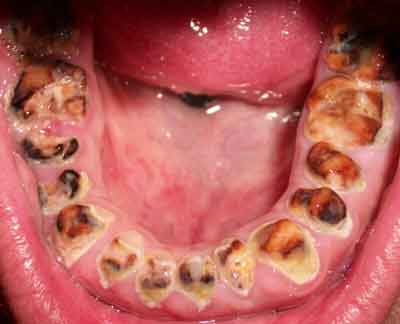 "My mouth problems began summer of 2006 when I got into a 4 wheeler accident. My friend was driving and I was behind him and we went over a jump. We landed wrong and ended up hitting a tree at about 25 MPH, slamming my face into the trunk and breaking my jaw in half. For the next 6 weeks my jaw was wired shut so I had no means to truly clean the inside of my mouth. A year later I moved to Wisconsin to help take care of my grandfather. The water in Wisconsin does not have the amount of fluoride that Florida water has, nor is it as filtered so my teeth began to decay rapidly. I have not had dental insurance for the past 3 years to get my teeth repaired which was not a very smart move. My teeth began cracking and falling out as I was eating even the softest foods. I began to get abscesses in one or more spots simultaneously. I have not one whole tooth in my mouth. I have constant abscesses in 2 parts of my mouth and there is little to no pain most of the time. I do have flare ups where I have an abscess about the size of half a golf ball that is extremely painful. There have been times where I have taken 1400 mg, and more, of Vicodin at a time to try to ease the pain and it does nothing. The one thing that always works to alleviate the pain is hot coffee. The heat lets the abscess drain and relieve pressure yet the infection is going back into my body which is dangerous. When the infection spreads through my body it weakens my heart and can cause multiple medical problems. My wife is 3 months pregnant which is why I am getting my teeth taken care of so her and my child do not have to suffer because I did nothing to help take care of my teeth and ultimately them."
"actually it was an atv accident. i didn't know there were helmets at the house or i would have worn one. i started getting cavities and the teeth started cracking and from there it went downhill pretty fast"
"i also had to wait 3 days from the time of the accident until i could get my jaw wired so they had to re-break it a little to set it right." and he believes the broken jaw damaged the nerves to the teeth.
UPDATES:
The cost of meth teeth extraction and or repairs
JANUARY 26th, present: "i went to the dentist for the assessment today and they confirmed what i already knew. all of my teeth need to be extracted and get dentures. he told me the most desireable thing would be restorative procedures but that would cost $40-$50k. no thanks. The cost for all procedures including dentures is $6600. the first treatment would consist of extractions of teeth 1-5 and 12-16. the second treatment would be 6-11. third would be the fitting for the top dentured. fourth is 17-21 and 28-32. fifth would be 22-26. final treatment would be fitting for the lower dentures. i have to pay the full amount for each treatment the day it's done so this might take a while unless i get a loan."
My reply: "Hi ...,
Regrettably I don't have that sort of money :(
Seems a good quote though - I work on $300 per tooth extraction, and in your case maybe $400 to $500 as the teeth may disinetgrate when being pulled which makes for a lot of work when that happens. Dentures a few hundred more or so.. Matter of interest have you looked into dental plans? It may save you a bit that way.
You can check it out via
http://www.dentalplans.com/afftracker.asp?affid=22743&cr=4530&redircode=43
I don't affiliate for them much at all anymore, as google ads are so much easier, this exact link offers 3 months for free, and you can check to see if your dentist offers any discount before signing up. A year might cost $70 or so, but it may save you hundreds or thousands if your dentist is in one of the plans they offer - and there is a good chance of that I think.
Kind regards,
DOnald."
But first, if you want to come back to www.toothandteeth.com again, just add it to your bookmarks or favorites now! Then you'll find it easy!
Also, please consider sharing our helpful tooth and teeth website with your online friends.
---
contact us
privacy policy
legal disclaimer
Copyright © 2005-present Donald Urquhart. All Rights Reserved. All universal rights reserved. Designated trademarks and brands are the property of their respective owners. Use of this Web site constitutes acceptance of our legal disclaimer.